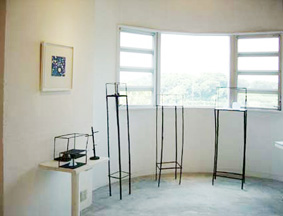 Noe Aoki's etching "Shiratama" and sculptures.
Mizuho Oshiro Gallery, Kagoshima.

News during this hot summer!
・Noe Aoki's etchings and woodblocks in Kagoshima

・Ai Yamaguchi and shu uemura

・Emiko Kasahara at the Sydney Biennale

NOE AOKI
| | |
| --- | --- |
| | |
| The woodblock prints "Tamakagiru" and small sculptures. | On the right are the six etchings "Shiratama". |
The exhibition of the series of woodblock prints "Tamakagiru" and etchings "Shiratama" at Ikeda Bijutsu and Art Zone Kaguraoka, reaches its final destination and is on show at Kagoshima's Mizuho Oshiro Gallery. There was a lively atmosphere and good attendance on 4 July for the talk given by Noe Aoki. The exhibition runs until 31 August, so if you happen to be in southern Kyushu for your summer vacation please drop by!
The new prints are an Edition Works publication. However, each gallery has its own individual show, which include Aoki's new sculptures, drawings, as well as some of her previous prints.

The new prints are also introduced in the 124th issue of 'Hanga Geijutsu' magazine (published by Abe Publishing Ltd) in the 'New Edition' section on pages 122-123. The article features an interview with Aoki as well as photographs of her prints. Please take a look!


Gallery Ikeda Bijutsu  Mikami AL Bld 4F, 1-8-8, Ginza, Chuo-ku, Tokyo.  Tel : +81-3-3567-5080
Art Zone Kaguraoka  4, YoshidaKaguraoka, Sakyo-ku, Kyoto.  Tel/Fax: +81-75-754-0155
Mizuho Oshiro Gallery  6-51-25, Murasakibaru, Kagoshima-shi.  Tel/Fax: +81-99-813-5460

AI YAMAGUCHI
The sponsor for Ai Yamaguchi's exhibition "Sukutoko" last year in Los Angeles was shu uemura. Then this year, both sides conceived an idea for a new project. As a collaboration between shu uemura and Yamaguchi, the packages of shu uemura's main product of cleansing oil would be colored and modified by Yamaguchi. It would then be released in ten countries. The characteristics of Yamaguchi's figures were matched with each of the features of the four different types of oil. With the release of that product, Edition Works was commissioned by shu uemura to make the commemorative lithograph "Akuhitohana". However, this work was made as a gift for VIPs of various countries connected to shu uemura and is not available for purchase. Therefore, the opportunities to see this work in the future are few.

On 8 July the presentation to the press of this product was held at the Spiral Hall in Aoyama, where the lithograph was also on show. With Yamaguchi's images and shu uemura's products installed around them both Yamaguchi and Shu Uemura gave a talk, after which they also gave a performance with each of them painting (as can be seen in the images below).

| | | |
| --- | --- | --- |
| | | |
| | | |
| | h"Akuhitohana" (Lithograph) | |
| | | |
| | | |


In June the Japan/Asia Contemporary Art Exhibition Officina Asia (5 June-29 Aug) began and Ai Yamaguchi's mural painting can be seen.

| | | |
| --- | --- | --- |
| | | |
| Ai Yamaguchi making her mural. | View of the gallery. | photo by ninyu works |

The exhibition is held in three different places, and Yamaguchi's work is on show at
the Galleria d'Arte Moderna Bologna.

The other locations are as follows:
 The Palazzo del Ridotto in Cesena.
 The Palazzo dell' Arengo in Rimini.

The idea for the digital print "Hyaku no hana yuki wa furitsutsu" made at Edition Works came out of this show.

Other artists taking part from Japan include:
 Makoto Aida, Satoru Aoyama, Satoshi Hirose, Taiji Matsue, Hiroyuki Matsukage, Mika Kato, Kaoru Motomiya,
 Takeharu Ogai & Ai Ogawa, Shinako Sato, Koki Tanaka, Hidehiro Watanabe, Akira Yamaguchi, Yuichi Higashionna,
 Yumi Karasumaru, Tomoko Konoike, Shintaro Miyake, Muneteru Ujino, Ruriko Murayama, Minako Nishiyama,
 Nobuya Hoki, Kiyomichi Shibuya, Yoshihiro Suda, Ai Yamaguchi

If you happen to be on holiday in Italy at this time please go and see the exhibition.

You can also learn more about the exhibition and Yamaguchi via her homepage, ninyu works



EMIKO KASAHARA
Video images from the installation "La Charme #3" at the Sydney Biennale.
Emiko Kasahara is the only Japanese artist to have been invited to participate in this year's Sydney Biennale, which is being held from 4 June-15 Aug. The theme of this year's biennale is "On Reason and Emotion" and it brings together the work of 51 artists from 32 countries. Kasahara's new mixed media installation "La Charme #3"(2004) is on show, as well as the series of photographs "Pink"(1997). The biennale is being held at six different venues throughout Sydney. Kasahara's work can be seen at the Art Gallery of New South Wales.

Art Gallery of New South Wales Art Gallery Road, The Domain, Sydney.
For further details please see Biennale of Sydney
Emiko Kasahara features strongly in Issue 44(p. 6-13) of the magazine " Cosmetics & Culture " ( published by POLA research institute of beauty & culture) where she talks extensively about her work. The multiple work "MANUS-CURE", which was made in collaboration with Edition Works, is also featured on page 105. It is used as the opening for a special feature on "Nail Beauty".

Edition Works has begun preparations for Kasahara's new project. This project could take up to two or three years to complete, so we will keep you informed of its progress.

TOEKO TATSUNO
We have begun a new project with Toeko Tatsuno. She is presently working on some etchings. You can check the progress of this project via our homepage.

YUJI AKATSUKA
Yuji Akatsuka continues to work on his lithographs which he began last year.


RIEKO HIDAKA
From April in west Japan, the traveling exhibition to three art museums," Invitation to 20th Century Art: From the Collection of the National Museum of Art, Osaka (From Cezanne and Picasso to Warhol)" finally arrived at Okayama Prefectural Museum of Art. It will continue until 15 August.

From the collection of domestic and international work in the National Museum of Modern Art, the work of fifty artists is exhibited. Among some of the great works of the 20th Century one work of Hidaka's, "Foliage Shimmered with Sunlight" (1983, collection of The National Museum of Art, Osaka) is exhibited.

The Okayama Prefectual Museum of Art  9 July-15 August 8-48, Tenjin-cho, Okayama-shi Tel : +81-862-25- 4800


YOSHITAKA ECHIZENYA
We have recently added images of Echizenya's new paintings to the page of Echizenya's profile.
His work has changed considerably from the time he made prints at Edition Works. If you haven't had an opportunity to see these works on show then please check this page.


KOSAI HORI
Hori also has work on show at the Toyota Municipal Museum of Art, in the exhibition entitled, "Water Level of image -Transformation and Reflection of Narcissus" (6 July - 5 September). Taking clues from the myth of Narcissus this exhibition follows the development of changing images in Western Europe and Japan, spanning the 19th Century to the present day.
Toyota Municipal Museum of Art 5-1, Kozakahonmachi 8-chome, Toyota, Aichi Tel : +81-564-34-6610

At Tochigi Prefectural Museum of Fine Arts in the exhibition entitled "Picture in Motion", a video work by Hori is on show from 18 July to 12 September.
Other artists participating in the exhibition include:
 Torajiro AIda, Makoto Aida, Itaru Kato, Takahito Kimura, Mami Kosemura, Koki Tanaka, Mariko Tomomasa,
 Hideo Monden, Hiroshi Yamazaki, Unit 00(Kosai Hori, Erize Hori, Minoru Hatanaka)
Tochigi Prefectural Museum of Fine Arts 4-2-7, Sakura Utsunomiya, Tochigi, 320-0043, Japan
                    Tel : +81-28-621-3566


ISAMU WAKABAYASHI
"IW-Isamu Wakabayashi - Notes" was published by Shoshi Yamada in May. It contains Wakabayashi's previously unpublished notes"Notes on Paleolithic Art" as well as other papers on art.

News Back Number
Dates

Topics

25June 2004
Noe Aoki's new prints at Art zone Kaguraoka
Ai Yamaguchi in Italy etc.(English)
26 May 2004
Noe Aoki's new prints at Ikeda Bijutsu Gallery etc.(English) 
30 Apr 2004
Noe Aoki's new prints are coming soon! (Japanese)
Ai Yamaguchi in Kagoshima
A workshop for the Museum of Contemporary Art Tokyo (MOT) etc.  (English)
Ai Yamaguchi's first digital print  etc. (English)
Makoto Ito, Noe Aoki etc. (Japanese)
Yuji Akatsuka, Ai Yamaguchi etc. (English) 
Rieko Hidaka in Kagoshima etc. (Japanese) 
Rieko Hidaka in Kagoshima etc. (Japanese) 
Makoto Ito etc. (Japanese) 
Rieko Hidaka in Germany
Noe Aoki making woodblocks (English)
Ai Yamaguchi in L.A. (English) 
Ai Yamaguchi, Yuji Akatsuka at work (English) 
(Japanese) 
(Japanese) 
For more information, please contact us.


Director Chiaki Kayama  EDITION WORKS Ltd.