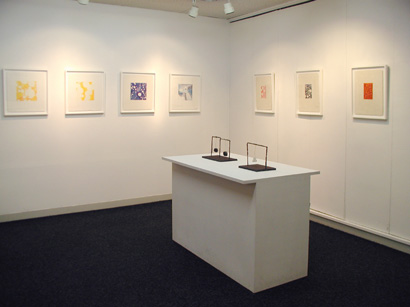 Noe Aoki's color etchings "Shiratama"
and sculptures "Tamakagiru II-8" (left) and "Tamakagiru II-9"(right) at Gallery Ikeda Bijutsu
The rainy season has come early to Okinawa and we can see the sign of summer in the weather.
How are you spending this time?

We announce the publication of Noe Aoki's prints.
Six woodblock prints: "Tamakagiru", and seven colour etchings: "Shiratama".
The exhibition began in Ginza on 17 May.
After that it will travel to Kyoto and Kagoshima.


NOE AOKI
Exhibition view of a series of woodblocks :"Tamakagiru" at Gallery Ikeda Bijutsu
Since last year Edition Works has been making a series of woodblocks ("Tamakagiru") and etchings ("Shiratama") with Noe Aoki, and the exhibition has now opened. All pieces are color; it is the first time for Aoki to use color in her etchings. The strong carving marks, which can be seen in the woodblocks, make for a very direct expression. In contrast to these, the etchings, while making use of direct lines and vivid colors, create a more delicate atmosphere. Both of these forms, show strong links with the sense of atmosphere and space that Aoki is presently making with her three dimensional work. If it is not possible for you to visit any of the exhibitions then please take a look at the prints via this page:
Opening reception view at Gallery 21+Yo  The sculpture entitled "Haretama IV"
The exhibition is on at Gallery Ikeda Bijutsu from 17 May-29 May / Tokyo, continuing to Art Zone Kaguraoka (4 June-22 June / Kyoto), and then Mizuho Oshiro Gallery (1 July-31 August / Kagoshima).
The new prints are an Edition Works publication. However, each gallery will have its own individual show, which will include Aoki's new sculptures, drawings, as well as some of her previous prints.

At the same time please enjoy the 2004 group Tsubaki-kai exhibition, which has already started at the Shiseido Gallery in Ginza. Also, one week ago, at Gallery 21 + Yo, Aoki's one person show of sculptures began.

Gallery Ikeda Bijutsu Mikami AL Bld 4F, 1-8-8, Ginza, Chuo-ku, Tokyo. Tel : +81-3-3567-5080
Gallery 21 + Yo Saisei Bld 2F, 1-5-2, Ginza, Chuo-ku, Tokyo. Tel : +81-3-3567-2816
Shiseido Gallery Tokyo Ginza Shiseido Bld 1F Basement, Ginza, Chuo-ku, Tokyo. Tel : +81-3-3572-3901

As part of the Tsubaki-kai 2004 exhibition Noe Aoki's main work is on show at Shiseido Art House (1-751, Shimomata, Kakegawa-shi, Shizoaka. Tel : +81-537-23-6122). This is a large-scale work in the open air and installed as part of the permanent collection.


AI YAMAGUCHI
From June the Japan/Asia Contemporary Art Exhibition Officina Asia (5 June-29 Aug) will begin in Italy and Ai Yamaguchi will exhibit mural.
The exhibition will be held in three different places, and Yamaguchi's work will be on show at the Galleria d'Arte Moderna in Bologna
The other locations are as follows:
The Palazzo del Ridotto in Cesena.
The Palazzo dell' Arengo in Rimini.
If you happen to be on holiday in Italy at this time please go and see the exhibition.


TOEKO TATSUNO
The Tsubaki-kai 2004 exhibition at Shiseido Gallery runs from Fri 23 April-Sun 6 June. This is the 4th term of the exhibition, which runs for 5 years. There are nine artists taking part. Apart from Toeko Tatsuno the participating artists are Noe Aoki, Yasue Kodama, Kyoko Sera, Yumi Domoto, Mitsuko Miwa, Naoaki Yamamoto, Ruri Iwata and Wakiro Sumi. There is a new energy to be felt in this major work of Tatsuno's.

Edition Works is now in the process of beginning a new printmaking project with Tatsuno. How this will develop is still to be decided. We hope you will look forward to it.


EMIKO KASAHARA
THE 2nd Auckland Triennial -Public/Private Tumatanui/Tumataiti- started on March 20. Thirty-seven international artists were invited to exhibit work at various spaces in Auckland. Kasahara's work will be on show at Auckland Gallery. This time, the theme of the Triennial focuses on the meaning of privacy and individuality within a number of contemporary socio-political contexts. Please drop by the exhibition if you happen to be in Auckland! The exhibition runs until May 30.

Edition Works has begun preparations for Kasahara's new project. This project could take up to two or three years to complete, so we will keep you informed of its progress.

RIEKO HIDAKA
An exhibition entitled "Invitation to 20th Century Art : From the Collection of The National Museum of Art, Osaka" travels to three museums in western Japan.
Hidaka's painting "Yoko" (1983, collection of The National Museum of Art, Osaka) will be exhibited alongside some of the great works of the 20th Century. The second exhibition has just started at Oita Art Museum.

Oita Art Museum (21 May-4 July) 865, Ueno, Oaza, Oita-shi. Tel : +81-97-554-5800
The Okayama Prefectual Museum of Art (9 July-15 August) 8-48, Tenjin-cho, Okayama-shi Tel : +81-862-25- 4800
Hidaka's one person show of new paintings will soon begin at galerie 16.
The gallery's press release states, "As one looks up at the tree branches in Rieko Hidaka's new work, rather than only fixing one's eyes on the branches, one feels the sensation of the space. With these three paintings combined one feels a different sense of space and the beginnings of an experiment with distance." We hope you will enjoy this new work.

galerie 16 Enshoji Square 2F, 1-10, Enshoji, Okazaki, Sakyo-ku, Kyoto-shi. Tel : +81-75-751-9238
Exhibition runs from: Tues15 June-Sat 3 July


YOSHITAKA ECHIZENYA
We have recently added images of Echizenya's new paintings to the page of Echizenya's profile.
His work has changed considerably from the time he made prints at Edition Works. If you haven't had an opportunity to see these works on show then please check this page.

KOSAI HORI
Kosai Hori presently has a solo exhibition entitled "Collection-The Tenth Year of Verification: Recollections-Kosai Hori" at Takaoka Art Museum. It runs from 1 April to 8 August.
This year the Takaoka Art Museum reaches its tenth year, and so with this exhibition the museum would like to reflect over these ten years while it also looks at its future standing. The aim of the exhibition is to think about the permanent collection that it has. With this in mind, the work of Hori from its permanent collection as well as his most recent work has come to form this one person show.

Takaoka Art Museum 1-1-30, Nakagawa, Takaoka-shi, Toyama Tel : +81-766-20-1177

ISAMU WAKABAYASHI
"IW-Isamu Wakabayashi - Cumulative Notes" (tentative title)will be published by Shoshi Yamada in May. It will contain Wakabayashi's previously unpublished notes"Notes on Paleolithic Art" as well as other papers on art.

News Back Number
Dates

Topics

30 Apr 2004
Noe Aoki's new prints are coming soon! (Japanese) 
Ai Yamaguchi in Kagoshima
A workshop for the Museum of Contemporary Art Tokyo (MOT) etc.  (English) 
Ai Yamaguchi's first digital print  etc. (English) 
Makoto Ito, Noe Aoki etc. (Japanese) 
Yuji Akatsuka, Ai Yamaguchi etc. (English) 
Rieko Hidaka in Kagoshima etc. (Japanese) 
Rieko Hidaka in Kagoshima etc. (Japanese) 
Makoto Ito etc. (Japanese) 
Rieko Hidaka in Germany
Noe Aoki making woodblocks (English) 
Ai Yamaguchi in L.A. (English) 
Ai Yamaguchi, Yuji Akatsuka at work (English)  
(Japanese) 
(Japanese) 
For more information, please contact us.


Director Chiaki Kayama  EDITION WORKS Ltd.